Nursing Report Writing Help
Report writing is an important tool for practicing nurses, and given its challenging nature, nurse students may at times need nursing report writing help. Nurses write short notes to help them follow up on the recovery process of the patients. They include the treatment process and other clinical procedures.
These short notes accumulate into the final report of the patient's treatment history. Because of the significance of report writing skills, the nursing program has incorporated it into the curriculum. Students are required to master these skills while still in school. Nursing report serves as a standard tool of communicating valuable healthcare information.
Understand the Message First!
To write a good report, you must understand the message first. Before embarking on the report writing, you need to develop a clear understanding of the message, its purpose, and its areas of application. Consequently, you will be in a position to communicate the information intelligibly. There exist different forms of report, each with a distinct purpose, nature, and structure.  Interpretive reports analyze, describe, and inform the readers. Interpretive reports lack the recommendation section. Exploratory reports, on the other hand, require you to give recommendations and informed opinions. This is the most common report for nursing practitioners.
Have No Idea How to Start?
Writing a nursing report is easy, but only for those who have the knowledge and experience. During the course of your study, your professor will ask you to write a report, hoping that in the process of writing you will sharpen your report-writing skills. This can be overwhelming if you do not know where or how to begin. Here are a few tips to start you off: Nursing Report Writing Help
Clarify your main message
Identify the supporting reasons for your position
Support the reasons with at least two relevant examples
To bolster your position, rely on statistics and facts
Give a summary of your message
Conclude with recommendations
Should you have trouble in laying down the foundation for an excellent report, do not hesitate to contact us for a reliable nursing report writing help.
Standard Format for a Nursing Report
At this point, you have laid the foundation for a high-grade nursing report. The next step is to record your views, idea, opinions, and recommendations in a logical order on the paper. Like any critical document, a nursing report has a standard format. This format ensures that your information follows a coherent, methodological, and sequential order. It makes the report clearer by focusing on the most important elements of the report. The nursing report follows the following structure: Nursing Report Writing Help
Title page
Acknowledgement page
Table of contents
Introductory page
Abstract
Background information
Report/research methodology
Report findings
Discussion section
Conclusion page
List of references and bibliography
Appendix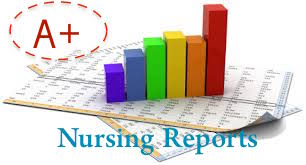 An excellent report is easily noticeable it its introduction page. On this page, the author needs to give an explicit and elaborate summary of the main ideas in the report. Even so, the introduction should be brief and concise. When writing nursing reports, endeavor to use formal language, correct terminologies, and adhere to the rules of grammar. Nursing Report Writing Help
The purpose of your report may be to recommend solutions, call for action, inform readers, persuade, or analyze a concept. Whichever purpose for which you are writing the report, ensure that you communicate it explicitly to the reader. To attain high level of clarity, use statistical tools such as tables, charts, among others, to present critical data and statistics. Use the appendix page to include background details about the report. Nursing reports are written in APA citation style. For more information and need for nursing report writing help, visit our website today.
Why Our Nursing Report Writing Help?
We:
Produce high quality reports
Write well-research reports
Do original reports with zero plagiarism
Guarantee high grades
Do timely deliveries
Importance of Report Writing in Nursing
Giving a nursing report is an essential activity in nursing. It should be accurate making it necessary for nursing students to learn from school days. Nursing Report Writing Help
Guides patient care
A nurse at the start of a shift may not know the health status of a patient. It makes a nursing report essential in providing essential information to an oncoming nurse about a patient to start caring. Caring for a patient without all the important information can compromise safety and care. A report during transfer of a patient from a nurse to another provides an opportunity to comprehend the details, ask questions and get clarifications for issues that are not clear. It is a reason why every nursing involved in patient care including the student nurses provide a report on the patients that they care during a shift.
Healthcare facilities might have slightly different policies for giving reports, but they all have similar basics.
Improving patient involvement and safety
A culture of safety is essential for maintaining safety in healthcare settings. It requires communication with the patient, other caregivers and family about aspects of care, treatment as well as services. A well-written nursing report achieves the original intention to ensure a safe hand-over between nurses. It also allows for the involvement of the patient and family. The traditional handover of change of shift reports was at the absence of the patients at the nurse's station.
Research shows filling our reports at a nurses station makes the task to seem very guarded. Nursing reports eliminate that alone time and allow the patients to feel included by nurses as part of healthcare. Nurses are usually the first among those who take care of the patient's safety and writing a bedside report in an integral part of their care plan. A nurse is accountable for communication at the change of shift report and will make an effort to verify patient data around these issues:
Health history
Physical assessment
Plan of care including the prescribed medications
At this time a patient can ask questions and set goals both short and long term with the nurse. This type of shift report helps to increase staff communication and ensures nurse accountability. Nursing Report Writing Help
Other benefits of report writing in nursing
Helping the patient and other people involved with the patient to understand the care
Decreases anxiety for the patients and their families
Decreases feeling of abandonment among families at shift change
Increases teamwork and relationship among the nurses in different shifts and units to decrease the potential for mistakes
Report writing in nursing allows for the better provision of information about patients under the care of a particular nurse. The information on a patient in the chart records but it is more practical when it is in a brief synopsis showing situation, background and assessment of a patient. Nursing Report Writing Help